Home Automation
Ervaar de voordelen van een verbonden huis met RamaR smart home producten
Bekijk onze uitgebreide collectie:
Steeds vaker
hoor je van de term 'home automation' of 'Smart home' en dat deze ontwikkeling binnen enkele jaren
veel gaat veranderen aan onze dagelijkse leefgewoontes. Moderne technologie is immers niet meer weg te denken.
Het comfort van klimaatcontrole in de auto, interactieve TV en mobiel internet via tablets en smartphones. Wie kan nog zonder?

Elektrische apparaten (bijv. garagedeur, zonwering, thermostaat, alarm en verlichting) kennen we al.
Dergelijke producten centraal kunnen beheren en bedienen via je smartphone spreekt ons zeker aan.
Somfy smart home sluit daar naadloos op aan...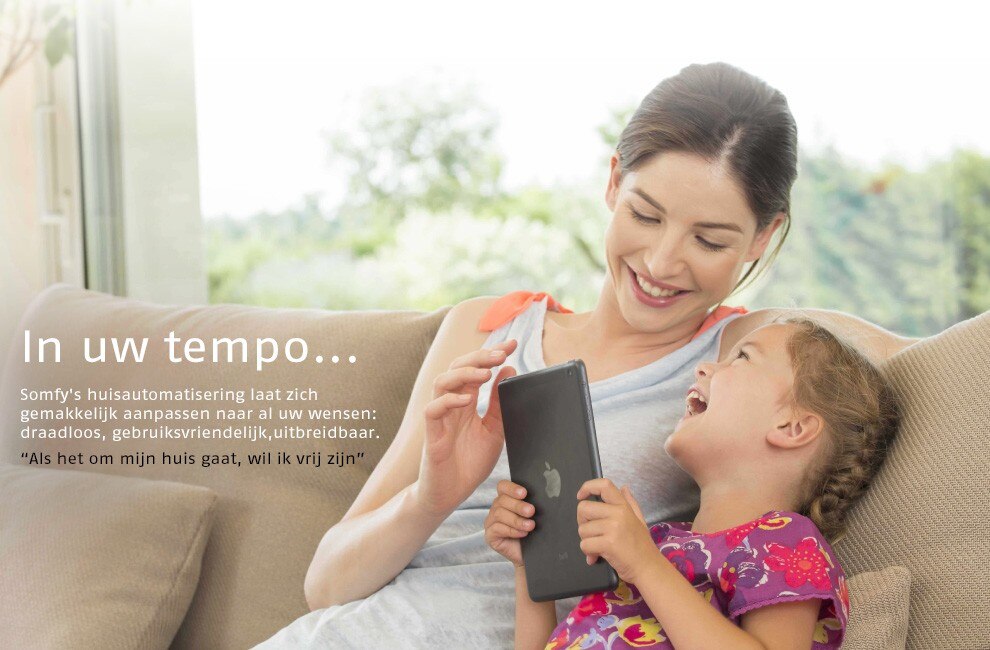 Smart home voor uw woning
In ons land zijn een groot deel van de zonweringen en rolluiken elektrisch uitgerust met Somfy motor. Feitelijk is dit al een stukje 'smart home' die we ons niet eens zo bewust zijn. Het uitbreiden met klimaatsensoren is een logische vervolgstap. De opstap naar verregaande aansluiting op Somfy smart home is niet zo gek meer. Uw verlichting bijvoorbeeld?
De praktische kant van Somfy smart home producten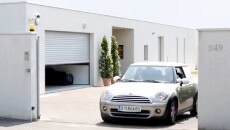 Comfort
"Dankzij Somfy smart home kan ik al mijn aangesloten producten besturen: mijn rolluiken, hekwek, verlichting etc., ongeacht of ik thuis ben of onderweg. Ik creëer mijn eigen leefscenario's zodat ik mijn huis met een enkele knopdruk precies kan laten doen wat ik wil."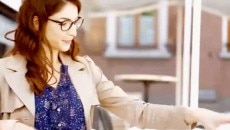 Veiligheid
"Veiligheid gaat bij mij boven alles. Als ik een paar dagen weg van huis ben, dan lijkt het nog steeds alsof ik thuis ben. Het systeem kan mijn huis in de gaten houden als ik weg ben en stuurt mij, indien nodig, direct een waarschuwing."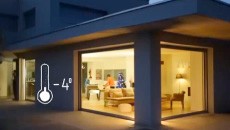 Besparingen
Zowel in de zomer als in de winter kan ik mijn huis zonder veel na te denken op de juiste manier isoleren. Een zonnesensor en een timer openen en sluiten de rolluiken automatisch voor mij. De warmte blijft binnen en de koude buiten. In de zomer blijft juist de koelte in huis behouden."
VERBINDEN
Een smart home met TaHoma® intelligentie
De TaHoma® bediening is ontworpen voor het verbonden huis en stelt u in staat om al uw aangesloten producten centraal aan te sturen via de app, om op afstand met uw huis verbonden te blijven en altijd en overal in te spelen op onverwachte situaties. De veilige TaHoma interface zorgt dat u in controle bent over uw huis of appartement, zelfs als u niet thuis bent. Het systeem geeft een terugkoppeling op uw smartphone bij activering van aangesloten producten of bij onraad.
TaHoma® interface

Met de eenvoudige en gebruiksvriendelijke web-interface bestuurt u alle verbonden producten in huis vanaf een computer, smartphone of tablet. TaHoma® is compatibel met een groot aantal draadloze protocollen.



Meerdere apparaten en meerdere merken
Somfy smart home kan stapsgewijs worden uitgebreid naarmate uw project vordert. Het systeem kan aan al uw wensen voldoen,
dankzij meer dan 100 compatibele producten die u met uw TaHoma kunt verbinden, waaronder motoren, sensoren, detectoren, camera's, thermostaten,
verlichting en meer.
TaHoma® is ook compatibel met vooraanstaande merken, waaronder Velux voor dakramen, Honeywell, Hitachi voor verwarming en meer.
Dankzij de radiotechnologie is de installatie van dit draadloze systeem eenvoudig en
maakt het snel verbinding met alle eerder geïnstalleerde producten in uw woning.